Use Our Workplace Communication Software to Keep Your Employees Up to Date
Are your employees constantly calling you or your managers about staff shift scheduling issues? By implementing our online messaging system to enhance staff awareness and improve communication, you'll be able to keep these issues to a minimum.
You'll be able to instantly message departments or individual employees by email or text regarding changes that impact the scheduling function. Automatically broadcast cover requests for shift transfers, post daily or weekly scheduling notes, send work schedules to inform employees of their upcoming shifts and instantly communicate schedule changes.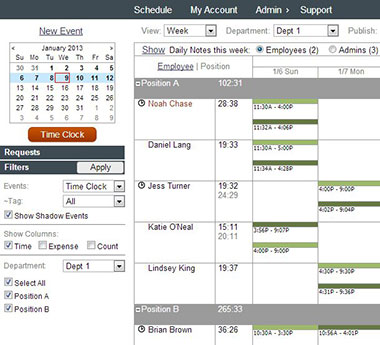 Key workplace communication software features and benefits include:
Employee communications via email, text or message panel
Employee communication preference selections
Employee seven-day schedule messages by email or text
Auto-generated alerts and messages
Employee-cover-request alert messages
Departmental labor budgets and alerts
Projected labor hours and expenses
Over-time alerts
Over-labor-budget-expense alerts
Employee-requested-hours alerts
Mobile Time Clock Software Also Available
You can also incorporate mobile time tracking software into your work schedule communication system. You'll be able to set up a mobile time clock station in one or more locations throughout your facility to help you more effectively monitor employee time and attendance.
Receive late clock-in alerts when employees have not clocked in for a shift that has already begun, see which employees are on the clock in real time, determine whether employees have forgotten to clock out at the end of their scheduled shift and even establish the earliest time employees can clock in for the day. You won't find more reliable time tracking software anywhere else!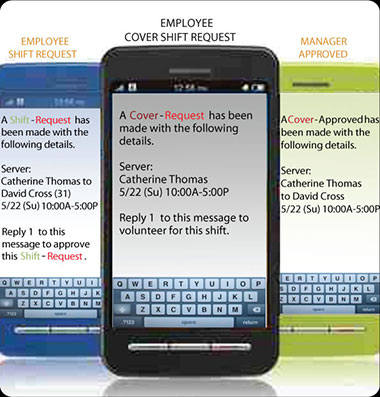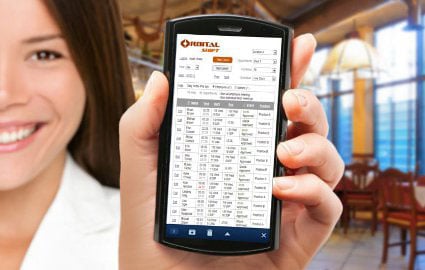 Join the Many Organizations That Use Our Software for Preparing and Maintaining Staff Schedules
Companies of all types have discovered the benefits of using Orbital Shift software to enhance employee scheduling and communication. Our software is intuitive and easy to use, and requires little in the way of technical expertise.
You won't be required to purchase additional hardware or enter into a binding long-term contract. And with our scalable, subscription-based pricing structure, our workplace communication software is affordable for small and large organizations alike.
A great way to get started is by taking advantage of our free trial offer or contact us to learn more. Use our software for 14 days with no obligation or risk!
Client Testimonials: What our users are saying




"Orbital Shift makes my life 10 times easier! Now communicating with staff via text and email, getting shifts covered, working around school schedules and vacations ... there are no miscommunications anymore. It's all online."
Jay Thane, GM | Bacchus Pub
"The communication between me and my employees and my employees and each other makes it so mistakes do not happen. Also, I really appreciate how willing and able Orbital Shift is to work with our unique scheduling needs."
Kyle Hunter, Dir of Operations | Exploration Works