Workforce Management Solutions Pricing
Orbital Shift employee scheduling and Web time clock software can save your company time and money, while also virtually eliminating the hassles associated with the labor management process. Companies in a wide range of industries have discovered that using our employee scheduling solution to create and update schedules provides greater speed and efficiency than when using a paper-based labor management system. Our industry-leading employee time and attendance software also serves as a powerful management tool that helps supervisors track labor expenses in real time.
What's more, our online employee scheduling and shift software is extremely affordable. Our scalable, subscription-based pricing structure ensures you will only pay for what your company actually needs. Instead of "one-size-fits-all" pricing, your monthly fee is calculated on a per-user basis. This makes our software extremely cost-effective for small and large companies alike.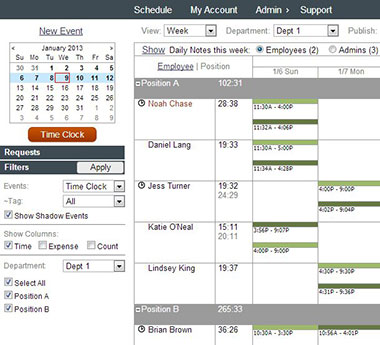 Choose the Best Pricing Plan for Your Needs and Budget
We offer two affordable pricing plans to meet the varying needs of our customers. If you elect to go with our employee scheduling software only, your monthly cost is a low $2 per user, with a minimum requirement of five users.
Many of our customers prefer to receive all the benefits of our employee scheduling software, as well as our Web-based time clock solution. Your total cost for this combination package is only $3 per month per user, with a minimum requirement of five users. Either way, you get the benefit of the best time clock software and employee scheduling solution on the market at a budget-friendly price.
We Accept All Major Credit Cards
Paying for your Orbital Shift labor management software is easy and convenient. We accept Visa, Mastercard, Discover and American Express. If you don't wish to use a credit card, we'll be happy to work with you to develop a mutually acceptable payment alternative.
No Long-term Contracts!
At Orbital Shift, we understand that many companies don't wish to be tied into a binding agreement that could tie up valuable business capital for an extended period. That's why we don't require our customers to enter into a long-term contract. Use our employee time tracking and scheduling software on a "pay as you go" basis. You can cancel at any time.
No Additional Costs or Hidden Fees
Unlike some employee scheduling and time clock solutions on the market, Orbital Shift products do not require the purchase of additional hardware or software. You won't be hit with any unexpected costs or fees down the road. You can also change plans at any time without incurring an extra cost.
Try Our Labor Management Software for Free!
Take advantage of our free trial offer. You can use our software for 14 days with no risk. You have nothing to lose, so why not get started today?
Frequently Asked Questions
Can I change plans at any time?
Yes! Simply go to the business settings page to change your plan or update your payment information.
Are you secure?
Yes! Not only are your accounts password protected but our login system is SSL certified.
Can we print or export data?
You can! At any time print or export staff schedules and/or time clock data to Excel or other formats.
Help, I'm Stuck!
Don't worry! Not only do we have detailed tutorial videos and instructions but you can also contact our support team at support@orbitalshift.com or call 1-406-552-0312.
Client Testimonials: What our users are saying




"Our staff loves being able to view and receive cover requests via email and text messaging. We feel with Orbital Shift the schedule process has finally caught up with technology."
Lisa Flikkema, GM | Old Chicago
"Orbital Shift saves me several hours per week, allowing more time with customers which is always good for business. The Orbital Shift team is great to work with! "
Chris Hurlbut, Service Mgr | Rosauers