The impact of employee tardiness on a business is detrimental to many aspects of the company: from decreasing employee morale, to negatively impacting productivity in the office. As business owners and managers, you are often presented with a challenge to manage expectations regarding employee tardiness and reprimand employees who are regularly tardy.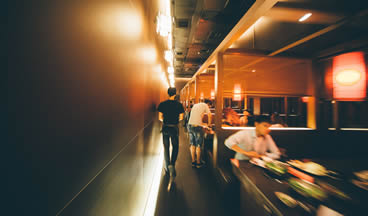 When it comes to employees being late, however, we know that there is perhaps an even greater challenge for businesses today - particularly large businesses with multiple departments. How do managers know when employees are late, especially if the manager is not in the office or oversees multiple departments? Furthermore, how do managers easily identify which employees are continuously late?
At Orbital Shift, we have developed a solution to this challenge in an effort to create an online shift management software that is modern, effective, and proactive. Our new feature, a messaging alert system for employee shift management, is designed to help you track, and manage, employee tardiness in your workplace.
It Provides Alerts to Managers When an Employee Has Not Clocked In
The key benefit of this feature is to provide quick communication to the manager when an employee has not clocked in yet to a scheduled shift. With this feature, business owners and managers receive mobile alerts to their phone, or emails to their inbox, that immediately notify them when any employee is late. Here is an example of how that alert would appear on your mobile device: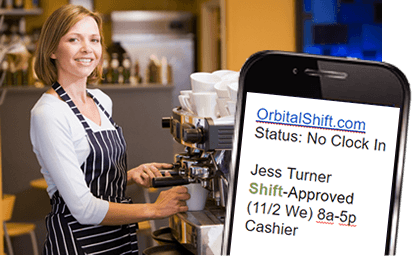 Here are a few common scenarios that are better managed with the introduction of this feature:
Sally works in a busy grocery store. She is scheduled to come in at 4 pm, however at 4:10 she has still not clocked in. Our software sends an email to Sally's manager, and he is able to quickly schedule a different employee to take her shift.

Joe, an owner of a small fishing shop in North Carolina, is traveling and asked his manager to open shop. His manager is late to clock in, and Joe receives an alert - quickly notifying him that his shop has not been opened on time.

Mark, a manager at a large hotel, oversees the staff at each bar within the facility. On a recent employee survey, he received feedback that many of his staff were feeling "overwhelmed". Upon setting up clock-in alerts, Mark identified that one bartender frequently came in 30 - 40 minutes late, understaffing the bar she was assigned to.
Its Customizable Features Offer Benefits for Many Industries
Developing new features for our Orbital Shift time clock software is an initiative that we pursue to provide an easy, beneficial time management platform for your day-to-day operations. This feature, with its mobile capabilities and automated functionality, can be adapted and customized to suit your individual company's needs. Here are a few of the benefits that your business can receive with this feature:
Maximize Staff Efficiency

If one employee is continuously late, or neglects to show up for a scheduled shift, efficiency across the entire department is negatively impacted. With absenteeism costing American companies billions of dollars every year in lost productivity, it's no longer a financially viable option to neglect your team's productivity - especially if it's due to something that can be easily controlled, like management of your staff schedules. This feature eliminates the stress and uncertainty of an understaffed team: freeing business owners and managers to oversee other day-to-day operations.

Review Clock-Ins for Multiple Departments

For industries that have multiple departments or teams per company – like hospitals, casinos, and resorts - it's often a challenge to quickly know when an individual department is unexpectedly understaffed. With our mobile alert feature for shift schedules, you can track the number of employees working in each department per day, and you can set up alerts for the managers of each department.

Track Delinquency

Our time tracking software is not only beneficial for day-to-day operations! Our software tracks the clock-in and clock-out times of each employee within the system, and you can export that data to determine which employees, if any, are consistently late.

Manage Staff Schedules, Even When You're Out of the Office

We know that not every business owner, or manager, is able to physically be in the office during all operational hours. If you have concerns that employees aren't arriving on-time when you aren't in the office, you can easily tell with our automated clock-in and clock-out alerts.

Opt In and Out of Alerts

With the Orbital Shift software, you can navigate to the "settings" tab within our time management platform to adjust, and customize, our features at any time. For this feature, we understand that mobile alerts may not always be ideal - for example, if you are on vacation or traveling abroad. In those instances, you can simply turn off the alerts for any time period that you would not like to receive updates to your mobile device.
Test Our Mobile Alert Feature Today with a Free 14-Day Trial
At Orbital Shift, we offer affordable pricing plans and customized solutions to fit your company's individual needs. We've had success with thousands of clients across a wide range of industries, and we are looking forward to helping you save your business valuable time and money.
We want you to feel comfortable with our software and its benefits before buying, and that is why we offer a free 14-day trial. During this trial, we will work closely with you to demonstrate all of the features and benefits of our industry-leading employee time software, and more importantly, how they can be applied to your business's needs.
Contact us today to get started with your free 14-day trial!