Questions every business should ask when deciding if now is the time to buy...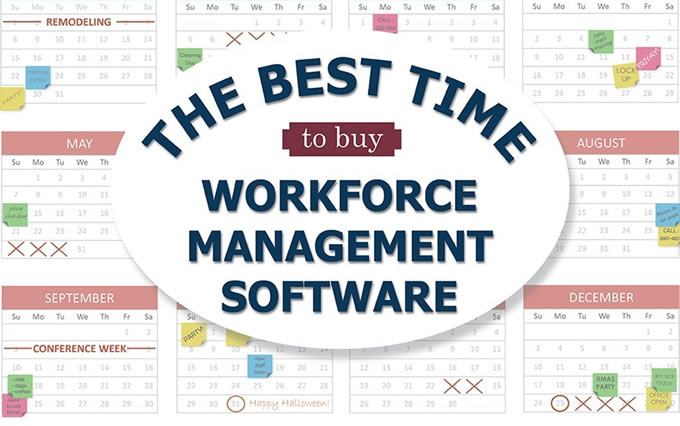 As competition grows for businesses across every industry, more and more executives are looking to workforce management software to help increase efficiencies and profit.
In fact, a Techaisle survey reported that U.S. SMBs using SaaS products rose from just 27 percent in 2011 to 73 percent in 2016 -- and that number is expected to hit 94 percent by the end of this year.
But implementing new business software can be a daunting task, and it's easy to find excuses to put it off: busy season might be right around the corner or you might be experiencing a lot of offseason turnover. Whatever the reasons may be, chances are, they still don't outweigh the benefits that employee scheduling and time clock software provide.
So when is the right time to buy? Is there a best time to implement new software?
There are a few key questions every business should ask itself when deciding if it's time to take the software plunge.
Is your business in its offseason or its busy season?
This is possibly the most important question a business should ask itself before deciding to sign up for new software - especially for industries like hotel and lodging, which are largely affected by seasonality.
Are you just a few weeks into the busiest months of the year? Probably not the best time to onboard new workforce management processes. If, on the other hand, your busiest season is coming to an end or is about to start, this could be the perfect time to consider new labor efficiencies.
Many businesses have a bit of breathing room between the end of the summer and the beginning of the holidays. This calm period before the winter storm is a great time to shop around and test out different software solutions before the holiday craze.
Is your business growing?
Are you considering adding new locations or departments to your business? This growth could be the perfect opportunity to experiment with new tech solutions. The more your business grows, the more it can serve to benefit from SaaS platforms that help ease the burdens of running a large-scale, multi-location company.
And as managers take on the extra responsibility of overseeing more employees, larger departments or entire locations, workforce management software will help keep everyone on the same page everyday, for every shift.
If your business isn't expanding, but you hope one day it will, software solutions could help you get there. Most SaaS products are subscription based, which takes the pressure off of small businesses from having to pay a lot of money upfront for expensive hardware.
Are you hiring?
Holiday season is right around the corner, which means many businesses are in the midst of a hiring frenzy. While it may seem counterintuitive, this period of turnover could be a great opportunity to get your staff trained on new processes.
This is especially true if you're hiring new managers who can learn the software from day one, and can help train any new staff members joining the team.
Is increasing labor efficiencies a priority for your business?
According to another Techaisle survey, the top mid-market business issue in 2017 is improving workforce productivity. If increased productivity and efficiencies aren't goals for your business, workforce management software is probably not for you. But if increased labor productivity is a priority for your company, this could be the perfect time to test out the benefits of time and attendance software.
Over 50 percent of the U.S. workforce is not engaged, and disengaged employees cost organizations between $450 and $550 billion annually, according to a report by Access Perks.
This is where SaaS can be of huge benefit to businesses in every industry. By automating daily staff management processes and giving employees the power to access their work schedules, both employee engagement and retention will skyrocket.
It's easy to put off implementing new software, but the biggest question businesses must ask is: Can you afford to wait?
The answer? Probably not.