If you currently utilize our software at Orbital Shift, you know that we continuously strive to provide new, efficient solutions for your common workplace challenges. Our goal, after all, is to make life easier for business owners and provide a great software for employees to use, as well.
Our newest feature, "Day View Time Interval & Coverage Count", focuses on effectiveness and management of day-to-day operations. This feature integrates time interval options to provide business owners, managers, and employees with a simpler way to review and coordinate each day's schedule. Let's walk through how this feature works, and how you can utilize it for your business.
First, let's take another look at our schedule with standard configuration in place:

In this screenshot, we can easily view our five employees who are scheduled for Position A: Noah Chase, Jess Turner, Katie O'Neal, Lindsey King, and Seth Henneman.
The schedule above is configured to display our schedule for the week, and you can see that it is broken down by day - starting with Monday, September 19th. Excellent feedback from our current, and prospective, clients helped us to identify a way to improve this interface by allowing users to break the schedule down even further.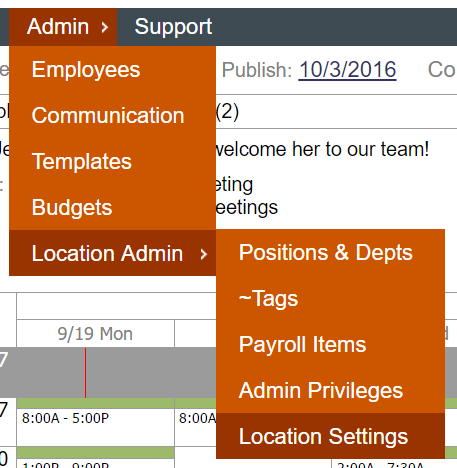 Integrating the Day View Time Interval Feature
This functionality can be integrated into your "View" by navigating to your "Admin" section in the options menu at the top of your screen, select "Location Admin", and click on "Location Settings."
One of our primary goals at Orbital Shift is to provide ample opportunity for customization that fits your company's unique challenges. For that reason, you will notice that there a number of options within our settings - each option is in place to make our software as efficient, streamlined, and personalized as possible.
To activate this feature, we will want to navigate to the "Schedule" tab, and locate section titled "Day View Time Intervals". In this section, you have the ability to view the schedule at an interval of 15, 30, or 60 minutes.

Utilizing Day View Time Intervals to Manage Employee Schedules
Each of our new features are developed with specific goals in mind, and this feature is certainly no different! Here are a few examples of how businesses have taken advantage of this feature, with screenshots to provide a visual representation of how this feature can be applied within our software.
Quickly Identify Any Timeframe that Requires Scheduling

If you're looking for a fast and simple way to ensure adequate coverage for each position, the Day View Time Interval provides an excellent solution. With the configuration in place to display each day's schedule on a selected time interval, one quick glance will tell you which positions are lacking a sufficient number of employees to cover that shift.

In this screenshot below, we can quickly tell that Position A does not have anyone scheduled from 7:00 to 8:00 am. Inadequate coverage and a failure to counteract insufficient scheduling can lead to confusion in the workplace, added stress to the leadership team, and in some cases - direct revenue loss. For many businesses, like those in the health care industry, it is absolutely imperative that all shifts are covered and employees consistently report to their assigned shifts.

At Orbital Shift, we understand that last-minute scheduling changes can occur. This common workplace challenge is why we developed an easy-to-manage, interactive online shift scheduling software that can be checked regularly to ensure there are enough employees scheduled for each shift.

Integrate "Employee Coverage Count" to Ensure Sufficient Coverage

Our software presents many opportunities to create custom views and a personalized interface, as we showcased in the "Location Settings" highlight above. Our "Filters" panel options are perhaps one of the most utilized settings within our software, and we can use them to support and streamline the Day View Time Interval! One filter that we recommend pairing with the Day View Time Interval is the "Employee Coverage Count" feature.

Once the "Employee Coverage Count" filter is applied, your schedule will now provide the scheduled coverage for each position. Let's review an example, and how we can utilize this information for our company's operations.

You may have noticed that there are numbers ranging from 1 - 6 in the gray rows for both Position A and Position B. The presence of these numbers indicates that the "Employee Coverage Count" filter has been successfully integrated within our schedule.

So what does these numbers mean? In the Position A row, they provide an overview of how many employees are currently scheduled to work at each time (currently set to 15 minute time intervals) in only Position A. We know that at 8 am, for example, there is one employee scheduled in Position A, and at 1 pm, there are two employees on the schedule.

Position B - and any additional positions thereafter - also display the number of employees scheduled for that position. You also have the option to display a cumulative total - one of the primary reasons that we include a cumulative total is to adequately track important daily metrics - from budget management to projected labor costs.

Review Each Employee's Scheduled Time Per Day to Manage Budget

Our software provides many solutions in the workplace, from online shift scheduling tools, to labor cost management options. When it comes to managing labor cost, it's important to not only understand the legislation behind employer guidelines, but to also identify, and evaluate, the impact that shift scheduling can have on reducing labor costs.

For example, many industries face regulations pertaining to number of employees scheduled per day, limitations for hours worked, and overtime fees for employees who work more hours than they were originally scheduled.

Without an easy way to view individual employee performance and accountability, unnecessary additional fees can quickly add up for a business. Our software provides a number of solutions for managing your budget. This feature, which breaks down shifts into smaller, easily viewed timeframes, is another great opportunity to keep those extra costs down to a minimum.

When you can successfully pair coverage count with projected employee hours, you have the tools to manage your team's schedule in a way that is both efficient and cost-effective.

Managers, and business owners, need to be able to make quick decisions in the workplace. The minute that a shift becomes inadequately covered, leadership needs to assess which employees are able to fill that shift.
Day View Time Interval: A Proactive and Efficient Approach to Shift Scheduling
No manager wants to be tied down with a poor scheduling process, and no business owner wants to spend valuable time attempting to find a solution for a problem that we have already solved.
With Orbital Shift's software, you have a tool that is developed with your goals, and your unique workplace challenges, in mind. The Day View Time Interval feature, our newest addition in a line of recent, successful feature launches, provides everything you need to manage your team's daily schedule.
At Orbital Shift, we do not want you to face an oversight in sufficient coverage that could affect efficiency and quality of your services, or products. The fear of oversight is eliminated with this feature and its abundance of options to view daily schedules in preferred intervals.
Most importantly, this feature - and all of our features - are intended to help you enjoy your job, increase your employees' happiness, and provide a consistently valuable and dependable tool for your long-term use. Shift scheduling and labor cost management are made easier with Orbital Shift, and we'd like to prove it to you today. Sign up for our free trial, and enjoy our newest feature!