Montana Software Company Records Hours for 350 Workers!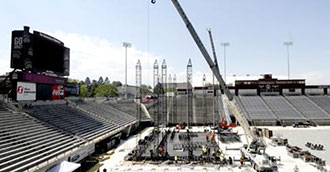 A record breaking crowd of 25,000 fans packed into Washington Grizzly Stadium, to hear the legendary Paul McCartney in Missoula, on August 5th. This was an exciting but massive undertaking for one of our clients, the University of Montana Athletic Department. To accommodate a crowd of this size, they needed to quickly scale up their staff numbers, and our software needed to scale with it. From ticket takers to ushers, security to parking, and everything in between; the final count for UM's temporary staff hit approximately 350 workers, and nearly 600 for the entire show.
A recent interview between Orbital Shift's CEO, Kevin O'Reilly, and the Missoulian Newspaper's David Erickson, explains how our online time clock software helped to track and manage employee schedules for the show. The mobile aspect of the schedule especially made communication easy and effective.
"We have been working with UM Athletics, and they contacted us about their needs coming up for the concert and asked us if we'd be willing to help with their staffing needs for all the people working at the event," said O'Reilly. "We already help UM Athletics with events like football games and other sporting events and the like. But this is a unique situation. Usually, it takes about 300 people to throw a football game, and you have to coordinate and plan staffing and staff scheduling. There are going to be around 350 employees involved for the concert, and they asked if our system could handle that many people, and it can."
Full article can be read online at the Missoulian.com.