Effective communication in the workplace is the foundation for productive environments, is central to a customer driven business, and is a remedy for low employee morale. So what happens when the communication gear is missing in a business's wheelhouse? In short, nothing good.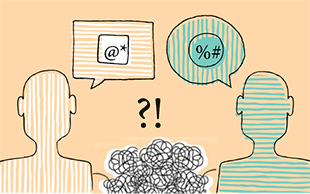 A recent workforce management study found that the one thing most negatively impacting employee morale, and effectiveness, was lack of workforce communication. Over 300 managers, of 20 employees or more, were interviewed, and one third said a lack of communication is at the core of most morale and low productivity difficulties. Micromanaging and failure to recognize employee achievements were second and third.
By far the best antidote for these problems is better, concise communication. This same study found that 38% of managers believe improved communication, and enhanced channels to do so is the best solution, with recognition programs following at 15%.
The Daily Notes feature within Orbital Shift addresses all of these problems with a simple, easy to use solution that is proven to work, and delivers results impacting the bottom line.
Every time an employee needs to view their work schedule or clock in/out for their shift, the manager controlled communication panel pushes vital information out to staff in a crisp, simple format. This not only improves and fosters effective communication in the workplace, it promotes better team dynamics as well.
For example, maybe you operate a restaurant business, in the northwest, and are running a special on Alaskan salmon. In order to sell more salmon, your wait staff needs to be aware of the product so they can promote it to customers. Before they clock in for their shift, a brief message with the details is visible upon logging in, enhancing staff awareness.
Lets address another scenario from the study - recognizing employee achievements - let's say you have an employee who has really been going above and beyond behind the scenes. Their efforts have largely gone unnoticed by coworkers as the task hasn't been highly visible to them.
A quick shout out to this employee, via Daily Notes, is a convenient way to publicly recognize their efforts within the business, in a visible way.
Staff communication is important, and retaining the intent of that communication is just as necessary. Repetition is key to that, but it doesn't have to mean redundant tasks for management to duplicate over and over again, when their time could be better spent elsewhere. Orbital Shift and the Daily Notes feature automates this in a way that is easy for management to administer, and effective for employees to absorb.