New manager feature to create unpaid and paid breaks at work for employees. Managers can visually review staffing levels and shift coverage, while restricted break settings help compliance with Federal break laws.
This month, we've taken enhanced employee breaks to another level. And, we're excited to give shift managers more customized options when assigning unpaid or paid lunch breaks plus, visual cues about their employee work schedule coverage. Let's jump into this new feature!
Visibility into Breaks at Work

Shift managers tasked with scheduling meal breaks can now see them displayed on the colored duration bar of Shift and Clock Events. Allowing a quick comparison of when they scheduled employees to take a break versus when those breaks occurred.
Also, the current status of clocked in staff changes from a clock icon, shown at the front of their Clock Event, to a coffee mug when an employee is on break. So with these icons on our web and mobile time clock software, managers can be on top of all clock status changes, if they want to be.
Staffing Levels During Meal and Rest Breaks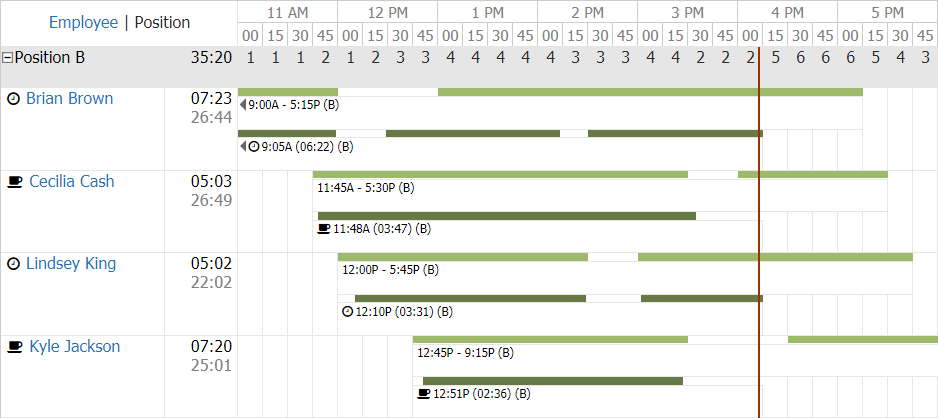 Displayed at the top of the active work schedule is a position header displaying the coverage count of overlapping shift schedule events. Summing Clock events in the past, and Shift events in the future, in corresponding 15, 30, or 60-minute intervals. At a quick glance, shift managers can now evaluate whether they have the right staffing requirements or coverage during peak times throughout the day.
Reviewing Employee Breaks
Whether the work break schedule is consistent or dynamic from day to day, employees can easily review upcoming meal and rest breaks between shifts, before the day begins. By using the employee punch clock app, assigned staff breaks display front and center alongside any posted shift notes or department reminders from managers.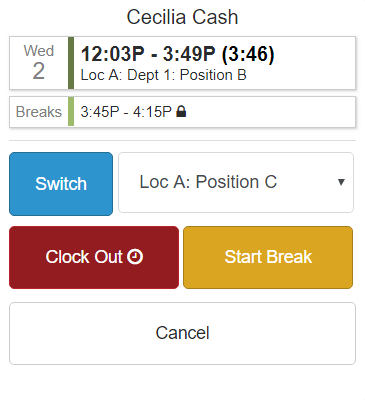 Employee awareness of when breaks begin and when they're scheduled to return help communicate expectations consistently with your team - lowering manager distractions and the need to over communicate with their staff on a daily basis.
Paid and Unpaid Scheduled Breaks
When it comes to 15-minute rest breaks or 30+ minute meal breaks, scheduling unpaid or paid breaks at work is now a breeze for managers. They can check or leave unchecked the $ checkbox next to the desired break times. If you need to adjust a work break, you can delete the entry and create a new one.

State and Federal Break Laws
Currently, the Fair Labor Standards Act (FLSA) does not require organizations to offer rest or meal breaks. But many state and local governments do.
Further, employers who fail to comply with state and local break requirements risk incurring hefty fines. Just one more thing managers working in those locales have to worry about and rightfully so, it's the law. But now, they can rest easier.
Where paid breaks are applied, staff managers can decide whether the assigned break duration should be restricted. Achieved easily by selecting the Lock icon before creating the break.
Restricting a scheduled break means, until the full duration amount of the break expires, employees are prevented from returning early from their break, getting back on the clock. Of course, if a manager needs to override this they can because let's face it sometimes unexpected things happen. But barring the unforeseen, managers and owners can have peace of mind that their online time and attendance software is in place, helping them comply with local and state labor requirements.
Let us know how this new feature works for you. Or, if you would like a demo to see our online time clock software first hand, contact us to schedule a brief online demo and we'll be happy to help.