Receiving notifications and alerts is one way our time and attendance software continues helping staff managers stay aware of unexpected labor activity. We are now excited to extend these time clock messaging features by introducing a couple of new notifications. The details of our new employee attendance messages follow!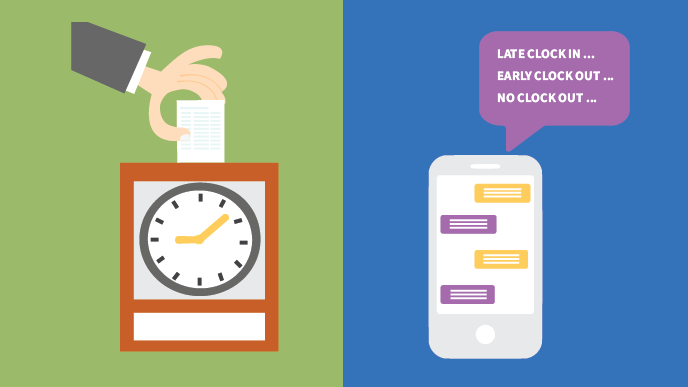 Staff Attendance Notifications
As staff managers know, missed clock punches continuously add to the pile of clock adjustments that must be made at the end of a pay period. And since we're all busy (busy, busy, busy), it's easy to see how these clock details can get overlooked by managers.
To help those responsible for managing teams, several years ago, we introduced some time clock alerts. Through the assignment of employee shifts, our time and attendance system is aware of when employees are scheduled to work. Because of this pre-entered scheduling data, alert messages can be triggered and sent out when employees forget to clock in or out.
These types of admin notifications continue to work well, as managers tell us they can monitor employee tardiness and forgetfulness on a day-to-day basis more efficiently. So when asked about expanding these types of admin messages, it was easy to see the value in making managers aware of additional labor scenarios.
Late Clock In Notification
This new admin notification is an extension of the highly used "No Clock In" alert. Now, after admins know that an employee hasn't clocked in for a scheduled shift, a new message is sent if, at a later point, that employee punches in. If I'm a busy manager working elsewhere, receiving updates that my staffing levels are now correct can be a benefit. It may alter my focus back to what I've been trying to tackle or, at a minimum, provide peace of mind and lower management stress.
Early Clock Out Alert
Sometimes, employees were specifically chosen to work a set shift and duration. The right mix of talent, expected service needs, or management on hand are but a few of the reasons why a scheduling manager assigned those shifts for the workweek. But when employees unexpectedly clock out for the day, adjusting their work schedule, the strategy behind the manager's shift planning can get sidetracked or even sabotaged. To assist these team leaders who care about the specific dynamics of the staff they have assigned, we developed the "Early Clock Out" alert.
As its name suggests, if an employee punches out early for the day, an admin will be notified the moment it happens. In the graphic above, the thirty-minute duration (highlighted in yellow) is a customized setting (more on that later) that admins can adjust accordingly. Combining this setting with the assigned shift's end time helps filter out those workers clocking out a little early from those who clocked out way too soon. Whether set to thirty minutes or an hour before a shift is set to end, staff managers are aware ASAP and now can be proactive if need be.
No Clock Out Staff Reminder
A bit of guesswork can occur for admins when an employee forgets to punch out for the day. How soon a team manager catches these mistakes can improve the accuracy of the information about when the employee should have clocked out. Plus, correcting time clock errors before payroll processing occurs helps eliminate any backtracking later.
Now, employees who forget to punch out receive a "No Clock Out" shift reminder. This friendly nudge helps teammates take corrective action before too much time passes.
Configurable Alert Settings
Of course, these time triggers and message settings are customizable for varying work scenarios and operations. The "Message" tab on the location settings page is where these new alert features and trigger values (h:mm) are assigned and administered.
Feedback is Key
If you have suggestions on how we can continue to enhance our real-time work notifications, please send us a note. We would love to hear from you and stay tuned for more time clock app updates and enhancements in upcoming posts!